Adozinda
Professor


Dear Wizard Friends,

31th October, at midnight, it is my birthday!!! I invite you all to celebrate Halloween with a slice of my birthday spider and bat wings cake. I assure you that you have never tasted a cake like this one!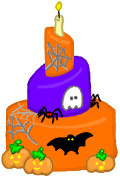 Get a slice of the birthday cake

Magical Salutations,
Adozinda.