I'm so bored!!! When I'm bored, I feel like I am locked in a grey cage, unable to get out. The only possible escape is art, even if the only supplies I have at my disposal are a Bic pen, a graphite pencil and a black marker.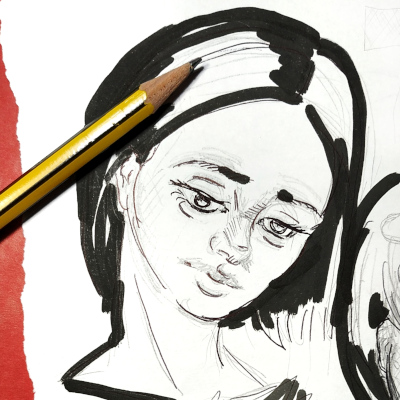 Ghost Alfredo is forgetful and needs your help to remember.
Indicate whether the phrases below are true or false.
| | | |
| --- | --- | --- |
| True | False | A Adozinda criou este retrato com lápis de cor. |
| True | False | A arte é um excelente escape para o tédio. |
| True | False | O tédio é semelhante a uma gaiola cinzenta. |
27/11/2020

Go to the Library

Main hall | Games | Self knowledge | Contacts
Terms and Conditions | Privacy Policy | Cookies

Language: English | Português

Copyright 2020, Sofia Ester.
My name is Adozinda and I am a sorceress.

I like magic and painting. This is my sketchbook.
If you liked my art, please follow me on Instagram.